Ball Mill Introduction:
Ball mill is widely used in powder-making production line including cement, silicate, new-type building material, refractory material, fertilizer, ore dressing of ferrous metal and non-ferrous metal, glass ceramics, etc. and It is used for grinding various ore and other grindable materials dry or wet.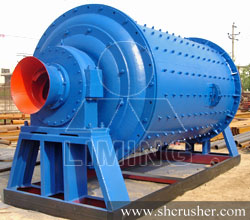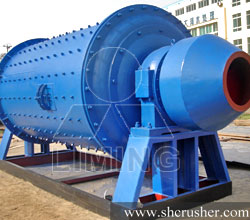 Ball Mill Structure:
The ball mill mainly consists of feeding part, discharging part, gyre part, transmission part (decelerated machine, small transmission gear, motor, electric control) and so on. The hollow axis adopts cast steel, the lining plate can be replaced, the big gyre gear is made of forging rolling gear, and there is lining plate in the cylinder body, which has favorable abrasion resistance. The ball mill has the features of stable running and reliable working.
This machine changes the intrinsic grinding machine structure. Its body and ground plank are an integral whole. So when fixing, it can be lowered on a plane surface once only. Use double tiered roller axletree with centripetal spherical surface as the support of the host axletree can reduce energy cost by 30%. The intrinsic grille pattern forcing evacuation is instead by over fall pattern controlling one. This can improve the milling of the granule and the quantity dealt with is reduced by 15-20%.
Technical Data:
Notice: Any change of Ball Mill technical data shall not be advised additionally.