Impact Crusher Introduction:
Impact crusher can crush each kind of coarse, medium, fine cubic material (granite, limestone and concrete etc) with feeding size not more than 500mm and crushing strength not more than 350MPa. Thus Impact Crusher is widely applied to secondary and tertiary crushing of various ores and medium-hard materials in railway, highway, energy, cement, chemical industry construction etc.

Impact crusher of our PF series is the latest product researched by our company by absorbing advanced technology at home and aboard and combining specific industry and mining condition in domestic sand and stone industry. The discharging size of our PF series impact crusher is adjustable and the crushing specification is diversified. Users can adjust the gap between hammer head and impact plate and matching parts as needed to get perfect outputting size.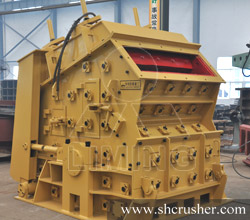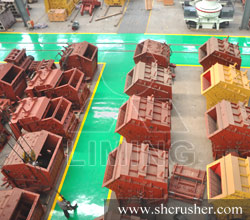 Compared with hammer crusher, the PF series of impact crusher has higher reduction ratio and can better use the high-speed impacting energy of the whole rotor. Thus it is the first choice in stone and sand crushing industry. However, as flat hammer of impact crusher is easy to wear and tear, the application in hard material crushing is also limited. Impact crusher is often used for primary, secondary and tertiary crushing of brittle material below medium hardness such as limestone, coal, calcium carbide, quartz, dolomite, ferric sulfide mineral, calcium sulfate and industrial chemicals.

Impact Crusher features:
1.Big feed hole, high crushing chamber, aplicable to crushing bulk materials of high hardness and less powder products.
2.Gap between impact plate and flat hammer can be conveniently adjusted to effectively control outputting size. Finished product is cubic and in good shape.
3.Compact structure, strong rigidity of machine, rotor has big inertia moment.
4.High chromium flat hammer, impact resistant, wear resistant, small mechanical wear, huge impact force.
5.Adoption of new rotor increases impact force.
6.Complete crushing function, high reduction ratio, high productivity, low energy consumption and high comprehensive benefit.
7.Non-key connection, simple structure, convenient maintenance, economical, reliable.
Technical Data:
Notice: Any change of Impact Crusher technical data shall not be advised additionally.