Two-stage Combination Crushing Series Mobile Crusher:
The complete combination mobile crusher is the two-stage Combination Crushing plant. It is combined with the high-performance crusher, the high-performance PE series jaw crusher and high-performance vibrating screen, belt conveyer and belt conveyer under the screen which are integrated with the crusher, as well as integrated vehicle-mounted motor and electrical control cabinet. It is widely used for the crushing and screening work in the road and bridge construction, urban construction, metallurgy, energy sectors.
The features of the main machine are: it is economical and applicable to the small and medium sized customers. It is a multi-unit integrated and fully automatic system; the self-mounted devices include conveying and screening; is the complete and independent crushing pioneer equipment.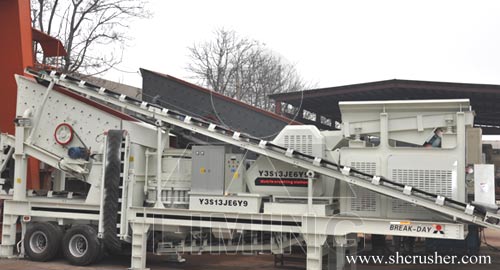 Main technical data:
Model
Technical data
Y3S23G91 E46E51B
Y3S23G83 E46Y55B
Y3S54G83 E57Y75B
Y3S84G83 F00V71B
Y3S48G93 E69Y55K
Transportation Length (mm)
13000
14000
15500
16800
15500
Transportation Width (mm)
2700
2700
2800
2800
2800
Transportation Height (mm)
4200
4200
4200
4200
4200
Maximum Length (mm)
14500
16000
17000
19400
18000
Maximum Width (mm)
2800
2800
2900
3150
3150
Maximum Height (mm)
5400
5400
5600
6000
6000
Weight (T)
41
48
58
60
63
Tire Configuration
Dualaxial
Dualaxial
Dualaxial
Triaxial
Triaxial
Primary Crusher
PE400X600
PE400X600
PE500X750
PF-1010
PE600X900
Secondary crusher
PEX250X1000
PYB900
CS75
VSI-7611
PYB900
Belt conveyor under Vibrating Screen
B500X6M
B500X6M
B650X7M
B800X7M
B800X7M
Belt conveyor above Vibrating Screen
B500X13M
B500X14M
B650X14M
B650X18M
B800X15M
Main belt conveyor
B500X8M
B500X8M
B650X9M
B650X10M
B800X14M
Belt conveyor for re-crushing material
B650X10M
Vibrating Feeder
GZD-950X150
GZD-850X3000
GZD-850X3000
GZD-960X3800
GZD-960X3800
Vibrating Screen
3YZS1237
3YZS1237
3YZS1548
3YZS1848
3YZS1848
Note:
1. The above model is elementary mobile crushing plant;
2. We can produce the crushing & screening plant according to customers' requirement.