The hammer crusher is one of the main equipment for intermediate and fine crushing the brittle materials with less than intermediate such as limestone coal and other used in metallurgy, building material, chemical and water - power industry, with a feature of big crushing ratio and even product graininess.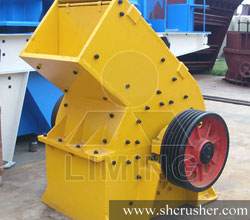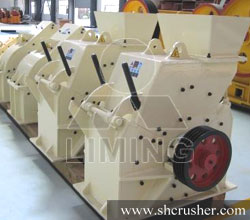 Working Principle:
Ordinary hammer crusher is composed of frame, rotor, grate bar, impact plate and adjustment unit; single hammer crusher is composed of frame, rotor ,feeding roll, grate bar, hydraulic opening unit and foundation.
In the hammer mill machine, the motor drives the rotor rotates of the Hammer Crusher at a high speed through the belt, and on the rotor there are series hammers. When the materials get into the working area of hammers, they are crushed by the rotating hammers of the Hammer Crusher with high rotation speed, the products which are crushed to meet the required size can be discharged by the outlet and become the final products, the large size products are brought back to the crushed area by the hammers of the Hammer Crusher for being re-crushed until they reached the required size.
Technical data:
Notice: Any change of Hammer Crusher technical data shall not be advised additionally.