Introduction:
The circular vibrating screen is a high-efficiency and new-type vibrating screen featured by circular vibration and multi-layers This type of vibrating screen is specially designed for screening material stone of a quarry, and widely used for product classification in mining, building materials, transportation, energy, chemical products industries. So, it's a kind of ideal equipment used in the crushing and screening unit. If the screen with small boring diameter is installed, the wet and sticky material can not be screened unless the water spraying method is used.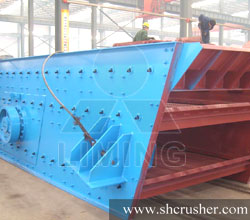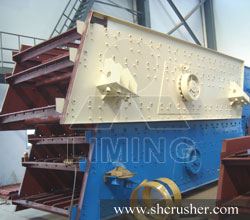 Performance Features:
1.efficiency. screening high and capability processing strong parameters, technical advanced structure, original an has screen vibrating circular The
2. The circular vibrating screen adopts a cylinder-type eccentric shaft vibration exciter and partial block conditioning amplitude, which makes it easy to maintain.
3. The circular vibrating screen adopts a spring steel woven screen or perforated screen plate, with which, the screen will have a long service life and its meshes are not easy to be blocked.
4. The circular vibrating screen adopts the rubber vibration isolation spring which makes it have a long service, low noise and pass through the resonance range stably.
Notice: Any change of Vibratory Screen (YZS Vibrating Screen) technical data shall not be advised additionally.