Crawler Type Mobile Crusher:
Crawler type mobile crusher (also named tracked mobile crusher),combined with crushing & screening plant, is designed and researched by our experienced engineers according to the customers' requirement. It is of high cost performance, reliable & beatiful structure. Its technology is as advanced as the internationl level. The mobile crushing plant is widely used in road & bridge construction, metallurgy and other fileds to crusher and screen.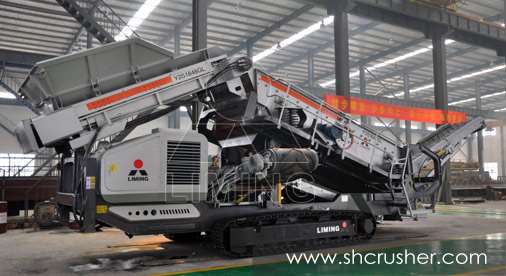 Features of Crawler Type Mobile Crusher:
1. Perfect performance of Cummins diesel engine. It is low consumption, low noise, reliable performace. And we can equip a military cryogenic preheat starting device, so that the crushing plant can be started to work even the temperature is bleow 25 degrees centigrade.

2. The chassis adopts crawler rigid ship form structure. It is of high intensity, easy to be transported on the different landform like mountain and marsh.

3. It adopts the motor of high-torque and strong driving force. Crawing system adopts full-power variable open hydraulic system which is of excellent performance, high reliability. It is able to make full use of engine power. The main hydraulic components (pumps, valves, etc.) is imported from Japan.

4. Controlling system adopts imported and advanced servo system. It is easy and exact to be controlled to stepless crawl.

5. The crushing & screening plant adopts our company's advanced product. Its structure is compact. The screen is installed in 20 degree angle, so the screening is highly efficient.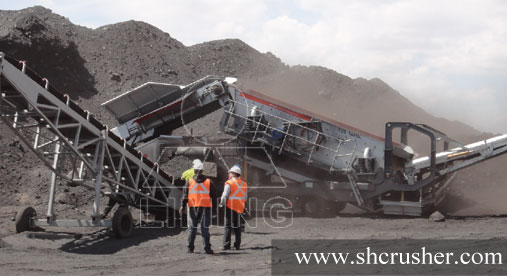 Technical Data:
Mobile Jaw Crusher Crushing Plant

| | | | |
| --- | --- | --- | --- |
| Vibrating Feeder | GZD-960X3800 | GZD-960X3800 | GZD-960X3800 |
| Jaw Crusher | PE600X900 | PE750X1060 | PE500X750 |
| Main Belt Width (mm) | 800 | 1000 | 650 |
| Main Belt Discharge Height (mm) | 2700 | 2800 | 2700 |
| Side Belt Width (mm) | 500 | 650 | 500 |
| Side Belt Discharge Height (mm) | 2700 | 2900 | 2700 |
| Power (KW) | 150 | 220 | 150 |
| Transportation Length (mm) | 13000 | 14000 | 12500 |
| Transportation Width (mm) | 3050 | 3180 | 3050 |
| Transporation Height (mm) | 3500 | 4300 | 3400 |
| Transporation Weight (T) | 39 | 54 | 33 |

Mobile Cone Crusher Crushing Plant

| | | | |
| --- | --- | --- | --- |
| Cone Crusher | CS75 | CS160 | HP220 |
| Vibrating Feeder | GLD1500/4 | GLD1500/5 | GLD1500/5 |
| Up Hopper Volume (M3) | 4 | 5 | 5 |
| Feeding Height (mm) | 2700 | 2900 | 2900 |
| Main Belt Width (mm) | 800 | 1000 | 1000 |
| Main Belt Discharge Height (mm) | 2700 | 2800 | 2800 |
| Power (KW) | 150KW | 300KW | 400KW |
| Transportation Length (mm) | 12000 | 12500 | 12500 |
| Transportation Width (mm) | 3050 | 3050 | 3050 |
| Transporation Height (mm) | 3700 | 3900 | 3900 |
| Transporation Weight (T) | 38 | 45 | 50 |

Mobile Impact Crusher Crushing Plant

| | | | |
| --- | --- | --- | --- |
| Vibrating Feeder | GZD-960X3800 | GZD-960X3800 | GZD-960X3800 |
| Impact Crusher | PF1010 | PF1210 | PF1214 |
| Main Belt Width (mm) | 800 | 800 | 1000 |
| Main Belt Discharge Height (mm) | 2700 | 2700 | 2700 |
| Side Belt Width (mm) | 500 | 500 | 500 |
| Side Belt Discharge Height (mm) | 2700 | 2700 | 2700 |
| Power (KW) | 150KW | 200 | 300 |
| Transportation Length (mm) | 12000 | 13000 | 13000 |
| Transportation Width (mm) | 3050 | 3050 | 3050 |
| Transporation Height (mm) | 3500 | 3800 | 3800 |
| Transporation Weight (T) | 36 | 42 | 48 |

Mobile Vibrating Screen Crushing Plant

| | | | |
| --- | --- | --- | --- |
| Vibrating Screen | 2ZS1848 | 3YZS1860 | 3YZS2160 |
| Closed hopper volume (M3) | 5 | 6 | 8 |
| Closed hopper Height (mm) | 4300 | 5000 | 5000 |
| Feeding Belt | B800X7.2 | B1000X8.5 | B1000X8.5 |
| Screen Under Belt | B800X7 | B1000X8 | B1000X8 |
| Screen Under Belt Discharge Height (mm) | 3500 | 3500 | 3500 |
| Side Blet | B500X5 | B650X5 | B650X5 |
| Side Blet Discharge Height (mm) | 3500 | 3500 | 3500 |
| Front Belt | B650X7 | B800X8 | B800X8 |
| Front Belt Discharge Height (mm) | 2800 | 3000 | 3000 |
| Power (KW) | 120 | 150 | 180 |
| Transportation Length (mm) | 12000 | 13500 | 1400 |
| Transportation Width (mm) | 3050 | 3200 | 3400 |
| Transporation Height (mm) | 3500 | 4100 | 4100 |
| Transporation Weight (T) | 30 | 36 | 42 |