Impact Crusher Intorduction for European Type:
European Type Impact Crusher is our latest generation of product with the international advanced-level quality,which is designed and produced based on Liming Heavy Industry absorbing the latest technology of impact crusher in the world.

European Type Impact Crusher is equiped with heavy rotors. Since the rotor is the "heart" of the crusher, and is the strictest part in the impact crusher during checking and accepting process as well as is very crucial during working process, we developed and produced the heavy rotors with the firm structure to obtain higher inertia moment. And High abrasive materials and the best crushing cavity enable the impact crusher of excellent performance.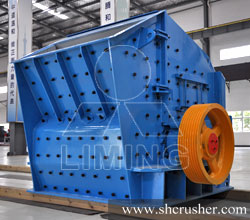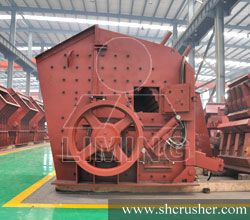 The impact crusher with two crushing cavities can simplify the process flow in the coarsely -medium crushing operation process. While the impact crusher with three crushing cavities can be used in the fine crushing and ultra fine crushing.
Impact Crusher Features for European Type:
1.Adopting the world-level manufacturing process; selecting manufacturing material at the most significant end.
2.Design of the heavy rotor and strict detection means guarantee high quality of rotor.
3.Integral cast steel structure is adopted for bearing base.
4.Higher reliability of plate hammer with unique fixing device
5.Less time of downtime and maintenance with improved adjustment device
6.Its own open-top device can rapidly complete replacement for spare parts such as hammer head.
7.The larger bearing is adopted and with higher bearing capacity.
8.The stability and reliability can be guaranteed through analyzing the rotor.
Working principle:
This type of impact crusher use impact energy to crushing the materials. When materials enters the working area of plate hammer, they are impacted then crushed by plate hammer at a high speed, and are thrown into the impact device installed at the upper part of the rotor for re-crushing, then rebounded into the working area of plate hammer from the impact scaleboard for re-crushing. This process is repeated until materials are crushed into demanded granularity and are discharged from lower part of the machine. The granularity and the shape of the materials can be changed by adjusting the gap between the impact frame and the rotor shaft. Spring safety device is adopted behind impact plate of the machine. When non-broken materials enter the crushing cavity, the front and rear impact frame fall back, and then the non-broken materials are discharged from the machine.
Technical Data:
| | | | | | | | |
| --- | --- | --- | --- | --- | --- | --- | --- |
| Model | Rotor size (mm) | Feed opening (mm) | Max. Feed size (mm) | capacity (t/h) | Power (kW) | weight (t) | Overall dimension (mm) |
| PFW1210Ⅲ | Ф1150×960 | 570×990 | 250 | 70-120 | 90-110 | 15.0 | 2550×1870×2100 |
| PFW1214Ⅲ | Ф1150×1400 | 570×1430 | 250 | 90-170 | 132-160 | 19.0 | 2550×2310×2100 |
| PFW1315Ⅲ | Ф1300×1500 | 625×1530 | 300 | 180-270 | 160-200 | 25.0 | 2960×2570×2380 |
| PFW1318Ⅲ | Ф1300×1800 | 625×1830 | 300 | 220-300 | 200-250 | 30.0 | 2960×2870×2380 |