Raymond Mill Introduction:
Raymond mill (Raymond grinder)is featured by the advantages of high output, fine powder, continuous powder production with dry method, centralized particle size distribution, continuous and adjustable fineness, compact structure, low energy consumption, high efficiency, low power consumption, small covered area, little one-time investment, easy installation and maintenance as well as reliable operation etc. Raymond mill is applicable to the dry-type super-fine powder process of mineral materials. Therefore, it's the ideal equipment for grinding industries, especially for small-size enterprises.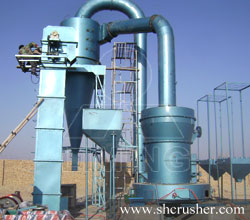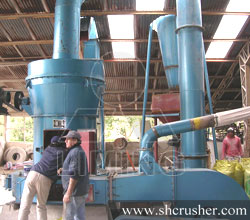 Working Principle of Raymond Mill:
The lump material will be conveyed into the storage bin by the bucket elevator after it is crushed into the required particle size by the jaw crusher. Then electro-vibrating feeder will uniformly transfer the material into the grinding chamber of the host machine. The material is up-thrown and fed into the space between the grinding roller and grinding ring in the process of synchronous rotation of the shovel and the grinding roller, and forms a cushion material layer. The material on this layer is grinded between the grinding roller and the grinding ring. Thus, the purpose of powder production is achieved. The grinded powder will be carried by the airflow of the fan into the analyzer for classification. The powder with the qualified fineness will enter the large cyclone collector, together with the airflow through the pipes, for classification, and then, will be discharged by the discharging device, as the finished product. The airflow is sucked into the air blower through the air-return pipe on the upper part of the large cyclone collector. The unqualified powder will be thrown to the external wall by the airflow and separated from the airflow. The coarse powder will fall into the grinding chamber for re-grinding due to its own gravity. The whole airflow system is closed and cyclic, and it flows under the positive and negative pressure circularly.
Raymond Mill Features:
Compared with the ball mill, the Raymond mill has higher efficiency, lower power consumption, smaller covered area, less one-time investment. The grinding roller compressed on the grinding ring tightly due to the centrifugal force. Thus, the output and fineness of the finished product will not be affected when the grinding ring is worn to a certain degree. The grinding roller and the grinding ring have a long replacement period, so it gets rid of the shortcoming that the wear parts of centrifugal mills have a short replacement period. The classifying airflow of the Raymond mill flows according to the recycling process as: the fan –mill shell -- cyclone separator -- the fan. Therefore, compared with the high-speed centrifugal grinder, there is less powder dust, and the operation room is clean without any pollution.
Technical Data:
Note: We hold the ringts to modify the design and specification of our products, any modification shall not be advised additionally.