The XSD sand washing machine is widely used in the construction site, sand stone factory, the construction site of concrete dam of a hydropower station, concrete pre-cast parts factory, oil-well refilling and other industries. The original sealed structure and the reliable transmission device ensure the good dewatering effect after washing. Therefore, it's an efficient sand washing equipment used together with the sand making machine. This series washing machine is arranged with a slant angle of 15°. The section under the water sink is surrounded by three weir plates, forming a sedimentation tank. The spiral head part is merged in the sedimentation tank, and it rotates continuously due to the motor driven by the speed reducer, and is supplied with washing water by the perforated plates at the bottom of the sedimentation tank. This equipment has three functions as washing, dewatering and classifying.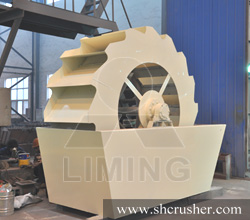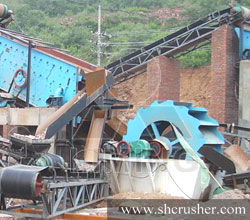 Performance Features:
1. This type of sand washing machine has a simple structure, stable performance, high cleanliness, little sand loss in the washing process, especially, the transmission part of the sand washing machine is isolated from the water and sand, so, its failure rate is much lower than the current common sand washing machine and the service life is long.
2. The structure is reasonable; the original seal structure, full-closed oil-bath type transmission device and adjustable weir plate, enable this series product being efficient, durable, with a good cleaning and dewatering effect. In addition, they also contribute to keep the fine product stable.
3. Large processing capability and low power consumption;
4. Water-saving, without any pollution;
5. Easy to maintain.
Technical Data:
Notice: Any change of Sand Washing Machine technical data shall not be advised additionally.