PCL sand making machine is also called as PCL vertical shaft impact crusher. It is applicable to crushing and shaping for soft or medium-hard or extremely-hard materials and is widely applied in fine crushing and raw grinding operation for each kind of minerals, cement, refractory materials, bauxite clinkers, carborundum, raw material of glass, artificial sands for building, building aggregates, artificial sands and each kind of metallurgical slag. And has higher yield efficiency especially on silicon carbide, carborundum, sintered bauxite and other high hard, ultra-hard and erosive-resistant materials than other types of crushers.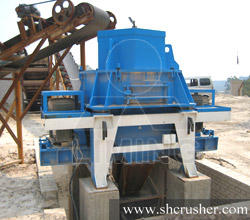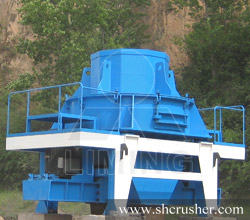 Features:
1. Simple and reasonable structure and low operation cost.
2. Have function such as secondary crushing and primary grinding small energy consumption, high output and high crushing rate.
3. Small size of equipment, little friction of impeller self-lining, simple and convenient operation, convenient installation and operation.
4. The influence of water content is very small; moisture content can reach about 8%.
5. Have function of shaping; product is in cubic shape, with big stacking density and very little iron pollution.
6. More applicable to crushing medium-hard and ultra hard material.
7. Small quantity of easy wear part is made of ultra-hard wear-resistant material, which has small size, light weight, facilitating replacing parts.
8. Operating noise is lower than 75db (db grade), with little dust pollution.
Technical Data:
Notice: Any change of Sand Making Machine technical data shall not be advised additionally.