The vibrating feeder is also called "vibrating feeding machine". The GZD series vibrating feeder manufactured by our company is a new-type vibrating feeder specially designed for uniformly conveying bulk materials before the medium crushing and coarse crushing process .This type of feeder adopts a structure with the double-eccentric-shaft exciter, which ensures the equipment to bear the impact caused by lump material falling, so the feeding material capability is very large. In the process of production, the lump and particle material can be fed into the material receiving device from the storage bin uniformly, regularly and continuously, so as to avoid the system halting, thus, the service life of the equipments is prolonged.

The vibrating feeder includes a steel plate structure and a grate-bar structure. The feeder with a steel plate structure is mostly used in the sand stone material production line, to convey the material into the crushing equipment completely and uniformly; the feeder with a grate-bar structure is able to perform the coarse screening for the material, so as to make the system more economic and reasonable in terms of the configuration. It has been the essential equipment in the crushing and screening work. Therefore, the vibrating feeder is widely used in the crushing and screening combined equipments in metallurgy, coal mine, mineral separation, building material, chemical, and material grinding industries.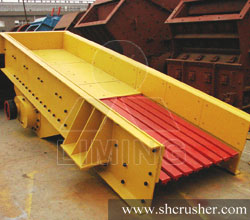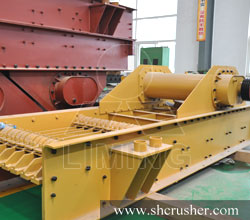 Working Principle:
The vibrating feeder consists of a feeding tank, exciter, a spring support and a transmission device. The vibrating source for the vibrating feed for the tank is the exciter. The exciter consists of two eccentric axes (positive and negative) and a gear pair. The motor drives the positive axis through the V-belt, then, the gear on the positive axis will mesh with the negative axis, in this case, the positive axis and negative axis contra-rotate at the same time, to make the tank vibrate, thus the material will flow continuously, and the purpose of conveying the material is achieved.
Technical parameter:
Notice: Any change of Vibrating Feeder technical data shall not be advised additionally.