Hydraulic Cone Crusher:
Hydraulic cone crusher is developed as high-energy cone crusher by introducing German latest technology. The Hydraulic crusher does not only improve production capacity and crushing efficiency, but also expands application scope: it can provide unequaled crushing performance in each kind of medium crushing, fine crushing and ultra-fine crushing operation from limestone to basalt and from stone production to each kind of ore crushing. As the latest generation product of substituting spring cone crusher and regenerating general hydraulic cone crusher in present mining and construction industry, it is the most ideal equipment for large-sized quarry and crushing of mining industry.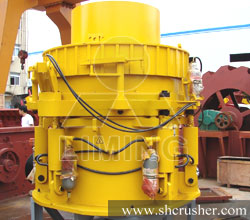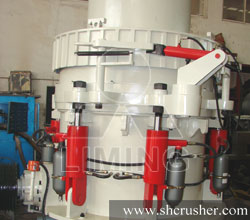 Hydraulic Cone Crusher Composition:
Hydraulic cone crusher is designed as one kind of efficient crusher which is designed by our company through introducing German technology and combining the performance of available metallic materials in the world. Main parts of the cone crusher include frame assembly, eccentric sleeve assembly, drive shaft assembly, motor assembly, dynamic cone assembly and fixed-cone assembly etc. Supplementary parts consist of electrical system, lubrication system and hydraulic system etc.
Hydraulic Cone Crusher Features:
1. With reasonable structure, advanced crushing principle and technical parameter, reliable operation, low operation cost, high crushing capacity, high production efficiency and high yield etc.
2. Having convenient and reliable hydraulic system; able to provide safe and efficient overload protection.
3. Many kinds of crushing cavities applicable to requirements on granularity for large range of products.
4. Adopting hydraulic control and hydraulically cleaning cavity setting; greatly improving the degree of automation.
5. Thin oil lubrication, reliable and advanced, improving service life.
  -Unique thin oil lubrication system design greatly improves the service life of equipments. There is no abrasion for non-contact type and high-performance sealing element, which improves reliability blocking dust and essentially eliminates common failures of original spring cone crusher such as oil water mixing.
6. There are many kinds of shapes for crushing cavity with flexible application and strong applicability.
  -Only fixed cone liner and dynamic cone liner must be replaced for HPC cone crusher. The shapes of crushing cavity can be freely changed from standard ultra-large cavity shape to short-head ultra-thin cavity shape, to adapt to requirements of granularity for large range of products.
7. Simple and convenient maintenance and operation
  -All parts of HPC cone crusher can be assembled and disassembled and maintained from the top part or the lateral side; the dynamic cone and the fixed cone are conveniently assembled and disassembled without needing to dismantle and assemble the frame and the binding bolt . Therefore, daily replacement of liner is more convenient for HP cone crusher. Use of hydraulic motor makes production efficiency of crusher better.
8. It can provide higher production capacity and better grain shape of products and can be easily and automatically controlled. It has maximal reliability and flexibility, which can create more value for customers.
Technical Data:
Notice: Any change of Cone Crusher technical data shall not be advised additionally.